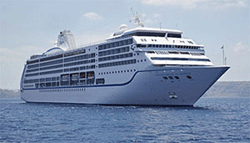 Pink Sands & White Gardenias
There are those for whom the sea is an adventure, not a retreat. For travelers who yearn for true exploration and discovery, there is Regent Seven Seas Cruises.
India & Nepal: A Spiritual Journey
Culturally rich and extraordinarily beautiful, the countries of India and Nepal offer untold riches for the spiritual explorer. Journey through the heartland of India and explore the sacred traditions of Muslims, Buddhists and Hindus as you visit Delhi, the pilgrimage site of Bodhgaya and the holy city of Varanasi. In Nepal, see the Kathmandu Valley's ancient monuments, the spectacular mountains of the Himalaya and the sacred Buddhist site of Lumbini, the birthplace of ...